Welcome
The Seminole State College Educational Foundation was established in 1972 to "supply aid for charitable, benevolent, educational, scientific and literary purposes," according to the organization's articles of incorporation.  Foundation scholarships are awarded according to guidelines established by the donors.  During the 2015-2016 academic year, $78,000 in scholarships were awarded to SSC student by the Foundation.  Additionally, in recent years the Foundation has assisted with the building of the Roesler and Seminole Nation Residential Learning centers, the development of the Henderson Park area and the Ben and Bonnie Walkingstick Student Services Center.
If you wish to contribute the Foundation's work, please visit the "Click and Give" link on this website.  If you would like more information about the Seminole State College Educational Foundation, please contact SSC President Emeritus Dr. Jim Utterback at j.utterback@sscok.edu or by phone at 405-382-9555.
---
Supporting the 'Field of Dreams'

The Seminole Tourism Council has committed $100,000 over a two-year period for the construction and promotion of a new baseball complex being planned at Seminole State College.  Funding for the project is being conducted through the SSC Educational Foundation.  The Tourism Council oversees funds collected from city lodging taxes to be used for encouraging and promoting visitor and tourism events, conventions, conferences and other attractions in Seminole.   Pictured (left to right) are SSC Rural Business and Resources Director Larry Smith, Seminole City Manager Steve Saxon, Chamber of Commerce Director Amy Britt, Tourism Council Secretary Marci Donaho, Chamber of Commerce President Doyle Long, Tourism Council member Neil Craig, Tourism Council Chair Lana Reynolds and Chair of the SSC Educational Foundation Jeramy Rich.
---
---
SSC Receives $500 Thousand Donation from Brian Crawford Memorial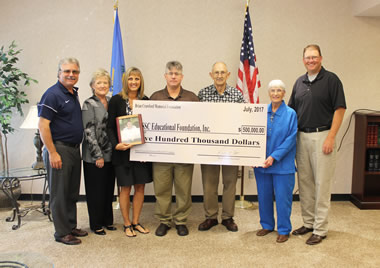 The Seminole State College Educational Foundation recently received a $500,000 donation from the Brian Crawford Memorial Foundation – a gift that will launch fundraising efforts for a new College baseball stadium and honor the memory of a local student-athlete.
In 2005, Prague High School senior Brian Crawford passed away after losing control of his vehicle during his morning drive to class. He was ejected from his vehicle after swerving to avoid a collision with the car in front of him, saving the life of a mother and her three children inside.Brian's father, Kenneth Crawford, explained that after his son's passing, a coworker first began a memorial fund for Brian. This memorial has grown and developed into the Brian Crawford Memorial Foundation, an organization that has worked over the past 12 years to raise money for a baseball complex to be named in memory of the young athlete. The Crawford Foundation has hosted a yearly memorial youth baseball tournament to help raise funds for this project, an event that has brought in teams from over 20 states.
Crawford explained that he and his family have searched over the years for the right opportunity and location for this baseball complex. After meeting with SSC officials and learning about their efforts to fundraise and construct new fields of their own, he knew it was the right fit. He and the Crawford Foundation pledged an amount of $500,000 toward the project and in turn, the complex will be named in memory of his son. Crawford said words can't describe how it feels to be partnering with SSC on this project. "We've worked and worked to raise money for this complex, and now it has a home. We still have more funds to raise, but we are all on the same page and we all want this project to be successful," he stated, adding, "This started as something for Brian, but I feel like it has grown into something much bigger. It's a project that can bring people together, including others who have lost loved ones."
While becoming a namesake for the late Brian Crawford, the new baseball field and facilities will also provide the College's nationally-recognized baseball program with a state-of-the-art complex. It can be used to attract games and tournaments throughout the state and beyond – bringing in potential tourism dollars to local hotels, restaurants and other businesses. This facility will benefit not only the community, but also generations of young athletes for years to come. The College holds a finance and lease agreement with the SSC Educational Foundation for the development and construction of this new baseball complex. This agreement allows the Educational Foundation to develop financing for this project and proceed with construction with the understanding that the College will lease the facility upon completion.
Any individuals, businesses or foundations interested in making a tax-deductible donation to the new baseball complex fund may send checks, made payable to the SSC Educational Foundation, to the President's Office at P.O. Box 351, Seminole, OK  74818.  Donations may also be made online through the SSC Educational Foundation website:  www.sscok.edu/Foundation.
---
SSC Foundation Honors President Utterback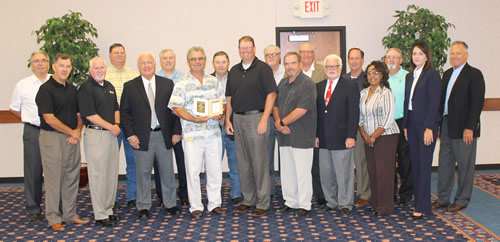 A Job Well Done…
Seminole State College President Dr. Jim Utterback was honored for his upcoming retirement Wednesday morning by members of the College's Educational Foundation. Foundation Chair Jeramy Rich presented Dr. Utterback with an engraved clock that expressed their gratitude for his visionary leadership over the last two decades. Pictured (l-r) are: Bob Swearingen, Rick Geist, Vice Chair Lance Wortham, Roy Sisco, Chairman Rocky Barrett, Mark Schell, Dr. Utterback, Jim Hardin, Chair Jeramy Rich, Larry Smith, Kenny Pryor, Doug Humphreys, John Hargrave, Richard Carr, Dr. Vickie Carter, David Wilson, Vice Chair Paige Sheffield and Jack Sherry
President Utterback Retires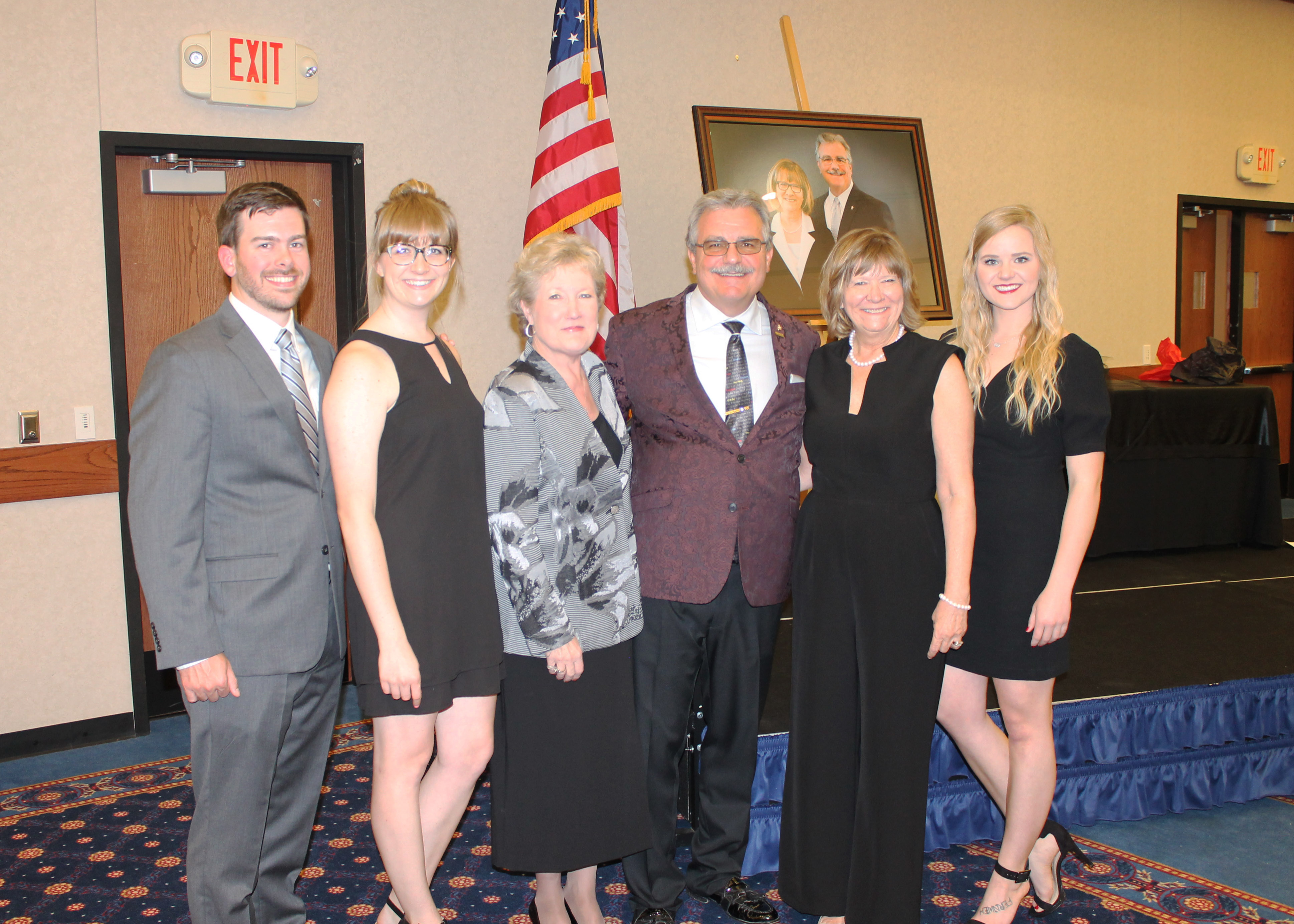 Approximately 500 friends, family members and supporters gathered to celebrate retiring Seminole State College President Dr. Jim Utterback.
The special retirement dinner honored Dr. Utterback and his 20 years of leadership and service to the College, community and beyond. Featured speakers for the evening included Dan Boren, SSC Educational Foundation Trustee and Former Oklahoma Congressman, and Lana Reynolds, SSC Executive Vice President. Also present was Oklahoma State Senator Jason Smalley, who presented Dr. Utterback with a proclamation on behalf of Oklahoma Governor Mary Fallin. Melvin Moran, former SSC Regent, served as the Master of Ceremonies.
Special congratulatory videos were also presented throughout the event, featuring comments from Senator Jim Inhofe, Citizen Potawatomi Nation Chairman Rocky Barrett, Citizen Potawatomi Nation Vice Chair Linda Capps, Seminole Nation Principal Chief Leonard Harjo, Seminole Nation Assistant Chief Lewis Johnson, Former Oklahoma Senator and Seminole Nation Chief Kelly Haney, American Association of Community Colleges Senior Program Associate Kevin Christian, Oklahoma State Regents for Higher Education Chancellor Glen Johnson, East Central University President Emeritus John Hargrave and OETA employees. Proceeds of the banquet will go to the SSC Educational Foundation as well as the Utterback Family Scholarship Fund. The SSC Educational Foundation, Inc., was created in 1972 "to supply aid for charitable, benevolent, educational, scientific and literary purposes," according to the foundation's articles of incorporation.
---
The SSC Educational Foundation awards a variety of scholarships each semester.  Information about the scholarships and applications can be found at:  http://www.sscok.edu/FinAidOffice/ScholApplic.pdf.  Students must have a minimum 3.0 GPA to qualify for Foundation scholarships.