Explore Oklahoma Colleges with the GEAR UP June College Tour
Posted on April 4, 2016
by admin
---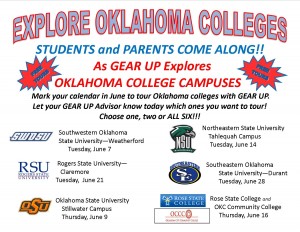 April 4, 2016 – In just a few weeks, many SSC GEAR UP students will be preparing for their high school senior year. Then, making that final college choice, applying for admission and making financial plans for tuition, books and fees will no longer be "on down the road."
To help GEAR UP participants find out more about a number of Oklahoma public colleges and universities, the project staff has arranged a schedule of GEAR UP College Tours through the month of June.
Six trips visiting seven different higher education campuses are scheduled for Tuesdays and Thursdays during the month and are open to any GEAR UP participant who wants to visit one or all the colleges to find out more about the institutions or get the feel of their future school. The Seminole State bus will leave the SSC campus at approximately 9 a.m. each of the scheduled days and return each day around 4 p.m. depending on the distance of travel.
The June College Tour schedule includes:
• Tuesday, June 7 – Southwestern Oklahoma State University, Weatherford, Oklahoma
• Thursday, June 9 – Oklahoma State University, Stillwater, Oklahoma
• Tuesday, June 14 – Northeastern State University, Tahlequah, Oklahoma
• Thursday, June 16 – Rose State College & Oklahoma City Community College, OKC Metro area
• Tuesday, June 21 – Rogers State University, Claremore, Oklahoma
• Tuesday, June 28 – Southeastern Oklahoma State University, Durant, Oklahoma
Lunch is included in the schedule for each trip and parents are encouraged to come along. To reserve a seat or seats for the trip, students must return the completed reservation form in the postage reply envelope mailed to their home address or return the form to their high school counselor.
For more information about the GEAR UP June College Tour, contact a GEAR UP Advisor or member of the GEAR UP staff at (405) 382-9681.
[Click Here to Print a Copy of the Reservation Form]