Former Seminole State College stand-out basketball players Ray Alford, Anthony Bowie and William Childs attended the SSC Trojan basketball games on Monday, Feb. 17. The trio was known as the "ABC Gang" during their time playing at then Seminole Junior College.  They led the 1983 Trojan team to a second-place finish in the 1983 NJCAA National Tournament.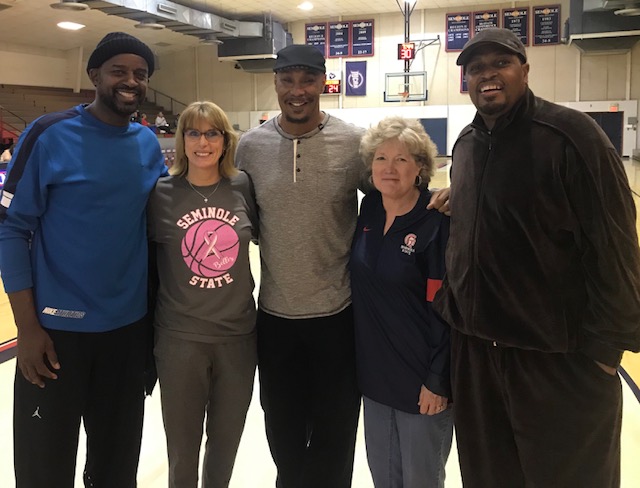 "It was wonderful to see these icons of Trojan basketball showing up to support this year's teams.  They are legends of our program," President Lana Reynolds said.
Alford, who was from Wewoka, went on to play at Oklahoma State University.  He was inducted into the SSC Alumni Hall of Fame in 2008.
Childs played at West Texas after leaving Seminole.
Bowie played at the University of Oklahoma, and later played professional basketball.  His eight seasons in the NBA included playing with teams in New York, San Antonio, Houston and Orlando.  
Both the men's and women's teams won their games against Western Oklahoma State College on Monday. The men's team came away with a 102-65 victory, and the women's team won with a score of 76-68.