Two members of Seminole State College's Public Relations team won awards at the annual Oklahoma College Public Relations Association conference on July 11, held at the Artesian Hotel in Sulphur. The team members, Web and Multimedia Coordinator Brooks Nickell and Communications Coordinator Josh Hutton, won awards in three categories. Hutton won in the category of Cover Design for the institution's 2020-2021 Annual Report. The cover celebrated the College's 90th anniversary with a colorization of the original concept art for SSC's first campus building, Tanner Hall.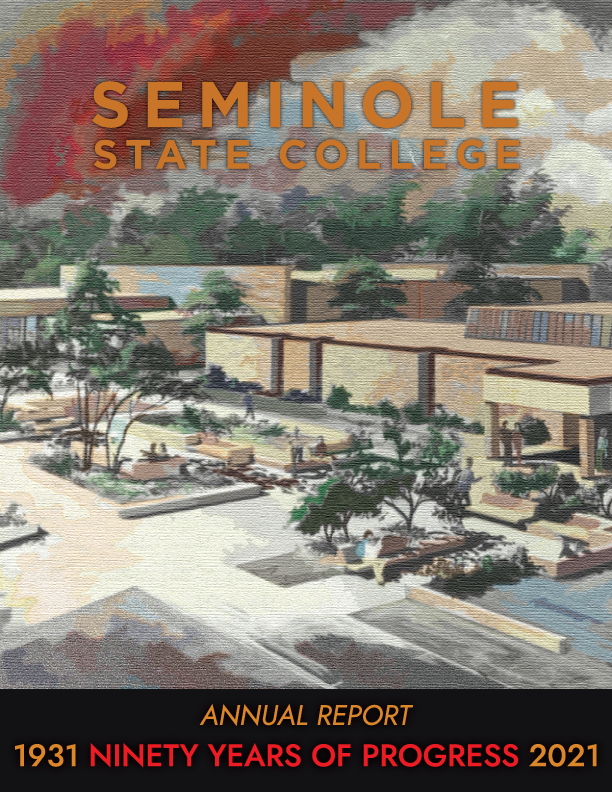 "In the four years I've been at SSC, this is the first time we've won an award for our design work," Hutton said. "Mechell Downey, the SSC Director of Board Relations and Administrative Operations, dug up the original black and white concept art of Tanner Hall. I spent several weeks colorizing it and designing a cover that was a callback to the World's Fair posters of the 1930s."
Then Hutton and Nickell won in the category of Video Featurette. Their submission was entitled "Telemedicine Brings You Serenity Now," which was a spoof of the 1990s sitcom Seinfeld. The video highlighted the College's push to provide free telemedicine services to full-time employees and students in the fall of 2021. The script was written by Hutton, and the promotion was shot and edited by Nickell. Both men acted in the video, which is available to view on the College's YouTube page.
The third category SSC won was Campaign for their "Free Money (COVID Relief Funds for Students)" promotion. The campaign centered on a short, humorous video entitled "Free Money for You, Brett." The video's script was written by Hutton, and Nickell shot and edited the video. Both men acted in the video, which was intentionally produced to look like a cheap infomercial you might stumble across at 2:00 a.m. on public access television. The video is also available on the College's YouTube page.
"To be frank, it's a little shocking to win at this awards competition. We're competing against a lot of very talented teams at much larger colleges," Nickell said. "We're so thankful for our administration, who let us experiment and delve into the absurd to make these videos."
A full list of award winners can be found at the Oklahoma College Public Relations Association website, ocpra.org.