With the holiday season upon us, the Seminole State College Educational Foundation has taken a creative approach to celebrate the end of the year with a "No-Show" fundraising event on Monday, Dec. 7.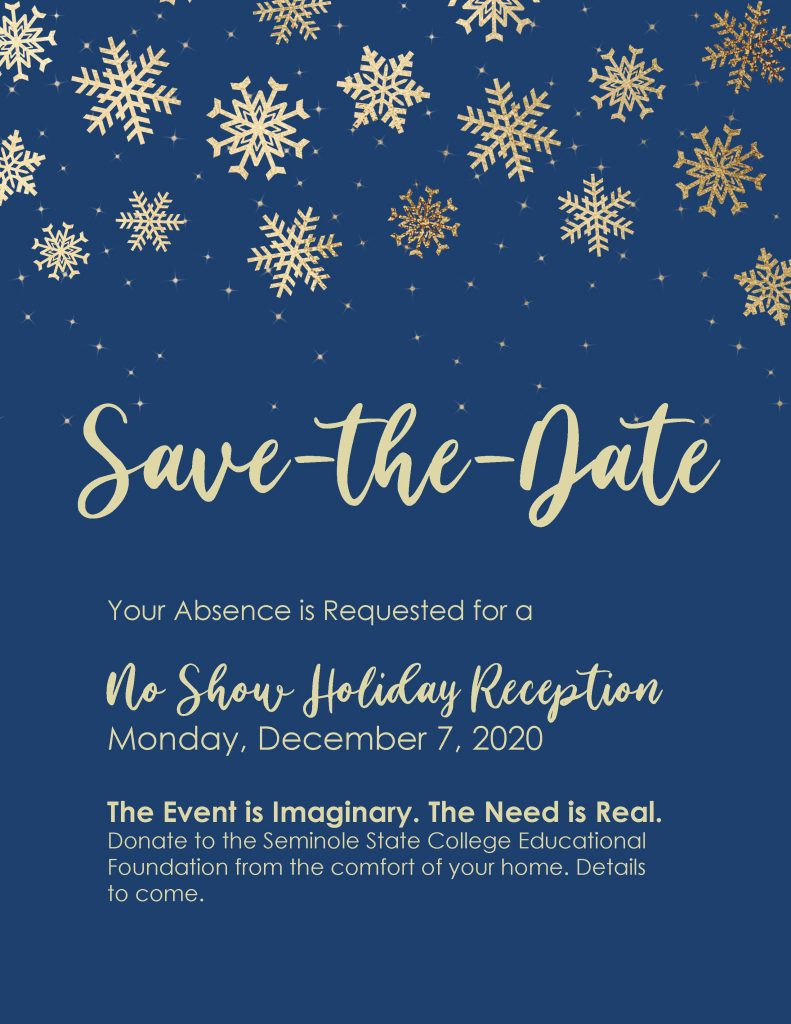 Although the Foundation decided against an in-person reception, the institution still wanted to find a safe and fun way to bring the campus and community together.
All who give to the Foundation through the "No-Show" event are invited to tune in at 7 p.m. on Dec. 7 for some fun holiday trivia and bingo and a chance to visit and see each other virtually. ZOOM login details will be emailed to those who have provided donations.
 "In an effort to help protect the health and safety of others, we opted not to gather in-person this year as we typically do. But, we still wanted a way to celebrate the holiday season, and provide an opportunity for giving. We hope our virtual reception will provide our supporters with a fun and relaxing experience from the comfort of their homes," explained SSC President Lana Reynolds.
Foundation Chair Lance Wortham echoed President Reynolds and explained that even though this year's event looks a little different, it is still a good opportunity to support a positive cause and have a little fun. "By giving to the Foundation, you are making a positive impact on the lives of the students at SSC. These funds help provide scholarships and many other opportunities for those who attend the college. Gifts to the Foundation mean even more this year as we work to help our students during the pandemic. Thank you in advance for any support you can give."
Please visit https://www.paypal.com/fundraiser/charity/2258082 if you would like to give to the Foundation through this event or contact Director of Community Relations Kristin Dunn at k.dunn@sscok.edu for more information.
The SSC Educational Foundation was established in 1972 to supply aid. According to the organization's bylaws, the Foundation solicits voluntary financial gifts to address the academic and student services priorities of the College. Annually, the Foundation provides approximately $125,000 in scholarships to SSC students. Additionally, they support faculty and staff initiatives and sponsors campus program.
The Foundation is led by a 27-member Board of Trustees representing communities throughout the College's five-county service area. The Executive Committee is comprised of Chair Lance Wortham of Shawnee, Vice Chair Mark Schell of Seminole and Vice Chair Andy Tucker of Okemah.