The Seminole State College Educational Foundation hosted its 28th Annual Spring Banquet on Thursday, April 27 in the Enoch Kelly Haney Center on campus. More than 400 people were in attendance.
The event serves as a major fundraiser for the foundation. This year's event raised over $40,000 for student scholarships and campus capital projects.
Accomplishments by alumni, employees and students were recognized at the event. Former students Chris Schroder, Ron Sosbee and Dion Wild were inducted into the SSC Alumni Hall of Fame. Recipients are selected for their achievements while attending the College, as well as the contributions they have made in their professional careers. Schroder is currently the Executive Director of the Association of County Commissioners. Sosbee is retired from a career of public service and Dion Wild is a Trooper for the Oklahoma Highway Patrol.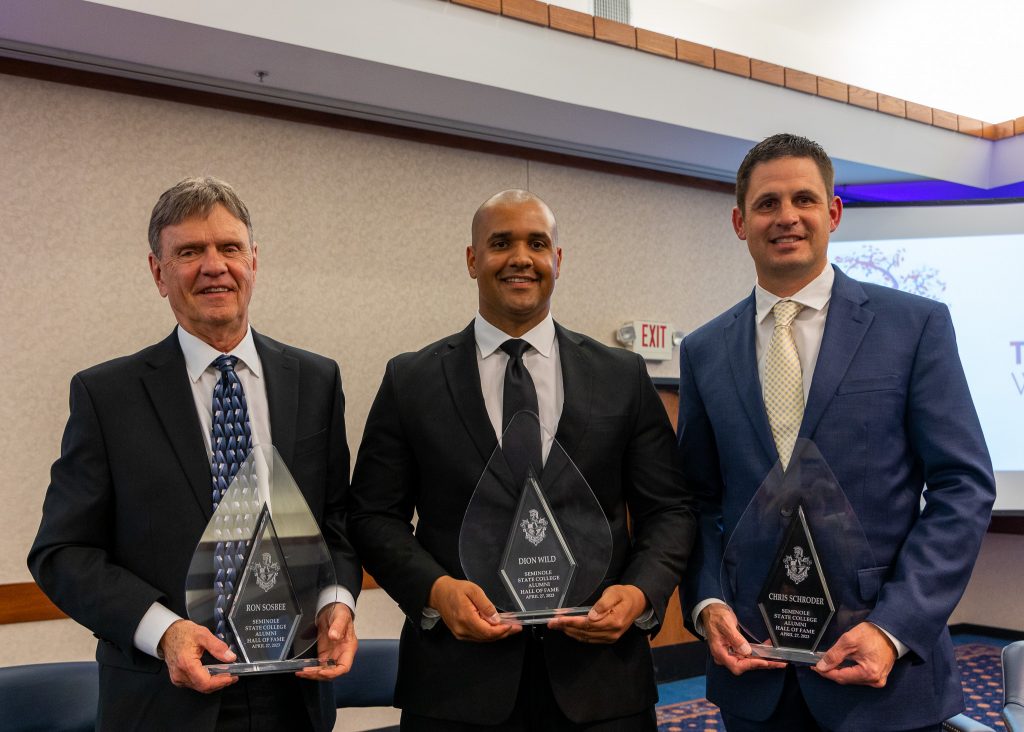 The Hall of Fame inductees were introduced by Phil Johnson, Director of the Alternative Dispute Resolution System at the Oklahoma Supreme Court; Katherine Benton, former SSC Vice President for Fiscal Affairs; and Tim Green, Director of Missions at the South Canadian Baptist Association of Churches.
Fred and Jonna Bunyan received the Distinguished Service Award. Fred worked at SSC from 1976 to 2014 as an Instructor of Business and Accounting. Jonna worked at SSC from 1975 to 2013, first as the Director of Library Resources and later as the Student Support Services Program Director.
Campus organizational leaders were also recognized at the banquet, including Faculty Senate President Wendy Rich, Professional Staff President Caitlin Brown, Classified Staff President Tisha Simon and Student Government Association President Georgia Ledford.
Each division on campus has selected an outstanding student to be recognized at the event: Hailey Wallace of Wellston, Business and Education; Christopher Howell of Wewoka, Health Sciences; Abby Ridley of Tecumseh, Language Arts and Humanities; Mark Ellis of Shawnee, Social Sciences; and Emily Fulghum of Sparks, STEM.
Two employees were recognized for reaching milestone years of employment with the College. Director of Information Technology and Chief Information Security Officer Marc Hunter was honored for his 25 years at SSC. Director of Financial Assistance Edith Cathey was recognized for her 20 years of service.
Three employees were recognized for their upcoming retirement: Talent Search Director Mary Ann Hill, Assistant Professor of Life Sciences Dr. Noble Jobe, and Upward Bound Head Coordinator of Math/Science I Ronnie Williamson. The College's Educational Foundation was established in 1972 to "supply aid for charitable, benevolent educational, scientific and literary purposes." For more information on the foundation, visit sscok.edu/foundation.