Preserving language is an intricate and vital part of Indigenous communities. Native communities are constantly seeking innovative ways to preserve their language. To continue championing Indigenous communities, the Seminole State College NASNTI Program has been awarded a supplemental grant to aid in the initiative of Native language revivification.
To foster engagement, learning, and promoting Native language, the Seminole State College NASNTI Program will host various events throughout the year. During the month of April, the program will host a Two-Day Native Language Conference. The conference, "How to Become a Native Language Ally," will be held Tuesday, April 18, and Wednesday, April 19, at 11:00 a.m. on the campus of Seminole State College in the Jeff Johnson Auditorium and will feature some of the most influential people to discuss language preservation.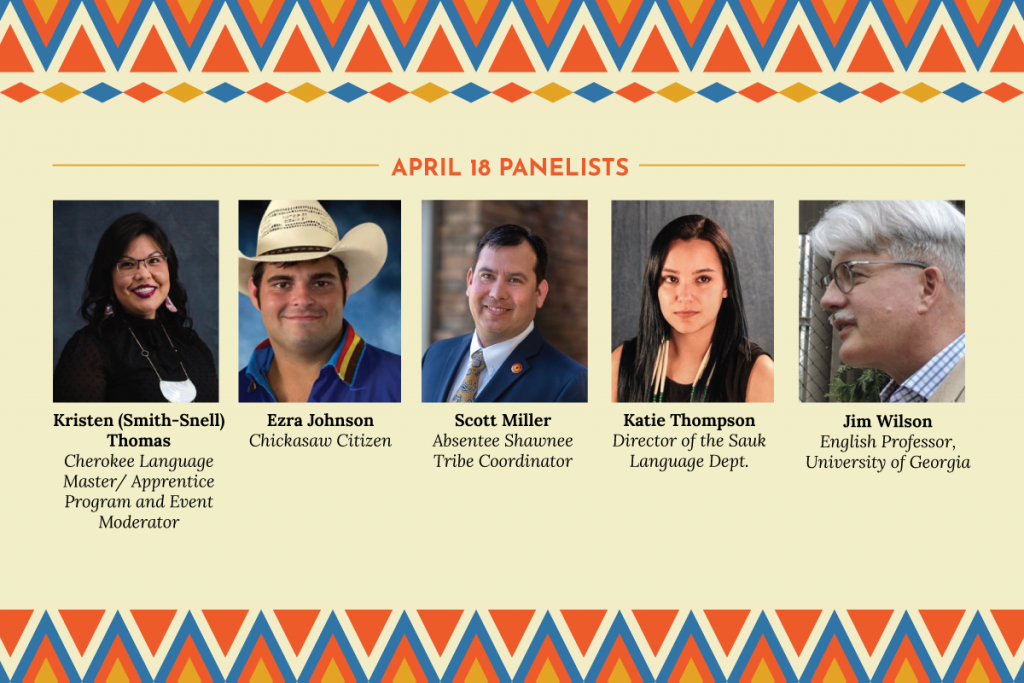 On Tuesday, April 18, the panelists include the Supervisor for the Cherokee Language Master/Apprentice Program and event Moderator Kristen (Smith-Snell) Thomas, Chickasaw Citizen, Ezra Johnson, Absentee Shawnee Tribe Language Coordinator, Scott Miller, Director of the Sauk Language Department, Katie Thompson, and English Professor for the University of Georgia, Jim Wilson.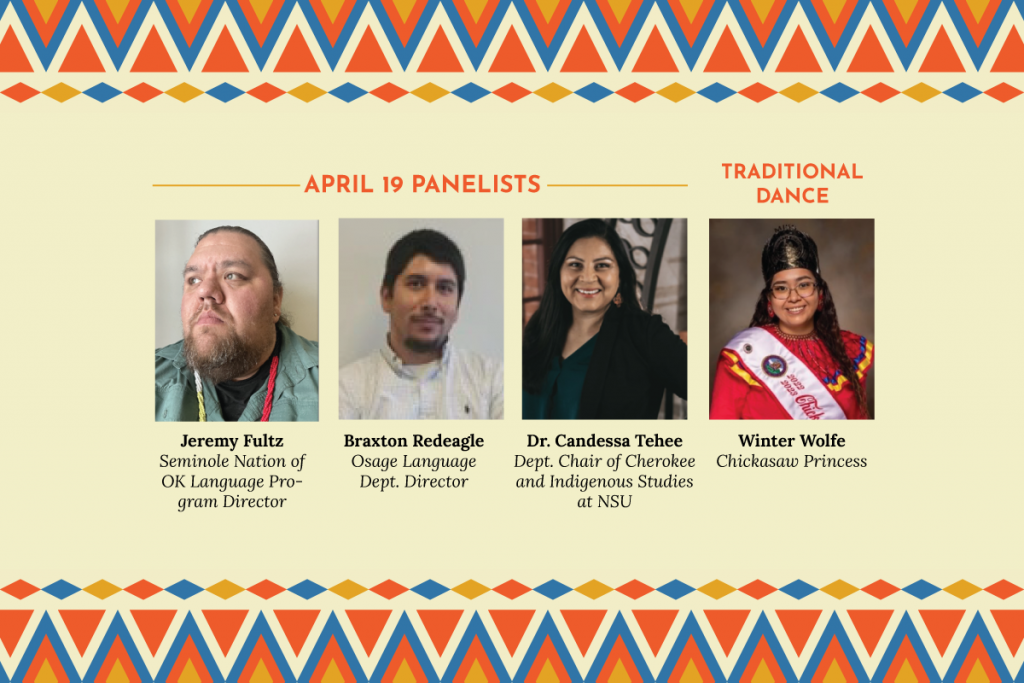 The panelists for Wednesday, April 19, include, Language Director for the Seminole Nation of Oklahoma Language Program, Jeremy Fultz, Director of the Osage Language Department, Braxton Redeagle, and Associate Professor and Department Chair of Cherokee and Indigenous Studies at Northeastern State University in Tahlequah, Oklahoma, Dr. Candessa Tehee. Also, Chickasaw Princess, Winter Wolfe will begin the program with a traditional dance. Sign Language interpreters and live captioning services will be available.
Speaker Bios
Kristen (Smith-Snell) Thomas, Moderator
Thomas serves as the Supervisor for the Cherokee Language Master/Apprentice Program. Thomas is a citizen of the Cherokee Nation and a Cherokee language learner. She was raised in rural Adair County and has always called the Cherokee Nation home. Thomas earned her Bachelor of Arts in Cherokee Cultural Studies and her master's degree in Higher Education Leadership from Northeastern State University. Kristen has spent twenty years working in the tribe's Cherokee language programs, including the Cherokee Language Immersion Charter School and the Northeastern State University Cherokee Degree Program.
Ezra Johnson
Ezra Johnson is a Chickasaw citizen. When he was fourteen, he started learning the Chickasaw language. He quickly found himself making friends with the language elders. While in school, he studied Chickasaw 1 and 2 classes, and after graduating he has continued to study the language, He would like to thank his teachers, Emma Mcleod, Weldon Fulsom, Carlin Thompson, Josh Hinson, Brandon Whiteagle, Luther John, Nick Underwood, Rick Greenwood, Lee Frazier, and Rose Jefferson.
Scott Miller, MBA, MLS
Miller is an enrolled member of the Absentee Shawnee Tribe of Indians of Oklahoma and has worked in various aspects of tribal governmental affairs since 2002, including housing and cultural preservation. Miller was instrumental in advocating for the Absentee Shawnee Cultural Preservation Department and Language Program to be included as consultants in the making of Tecumseh's Vision in the We Shall Remain series on PBS. Miller has recently returned to the Absentee Shawnee Tribe as the Language Coordinator to rejuvenate the Tribe's language program. He comes from a family with strong beliefs in the Shawnee religion, culture, and values. Miller holds a Master of Business Administration from St. Gregory's University and a Masters of Legal Studies in Indigenous Peoples Law from the University of Oklahoma College of Law.
Katie Thompson
Thompson is a tribal member of the Sac and Fox Nation of Oklahoma. After Thompson graduated high school, she accepted an internship with the Sauk Language Department, where she achieved conversational fluency through immersion learning. Growing up, Thompson did not hear her native language, Sauk, spoken outside of a few isolated words and phrases. More importantly, Thompson learned that the reason that she did not hear her language growing up is that there were only a handful of first-language speakers of the Sauk language and that the language is critically endangered. Through the love of the language and the time and determination to pass on the language by two of the last fluent Sauk speakers, Christine Williamson and the late Maxine Cobb, Thompson found her calling in life to teach the Sauk language to others.
Jim Wilson
Wilson lectures in the English Department at the University of Georgia (UGA), where he teaches First Year Writing and Honors Multicultural Literature. With co-principal investigator Professor Ervan Garrison (Oklahoma Choctaw; UGA Anthropology and Geology faculty), Wilson initiated the Homeland Returns Diversity Enhancement project from 2021-2022 to introduce Native American professionals and leaders affiliated with tribal programs to faculty and students interested in Native American studies at UGA. Native language revitalization features among many tribal cultural programs, often demonstrating cultural renaissance to non-Native allies.
Jeremy Fultz
Fultz started his tenure with the Seminole Nation of Oklahoma in August of 2018 as the Language Department's Media Specialist. Prior to being employed by the Seminole Nation of Oklahoma, he was a property and casualty adjuster for the fourth-largest insurance company in the United States for 15 years. Several people from different tribes have entrusted him with recording and archiving a glimpse into their ways of life. This led to Fultz working on language revitalization of the Mvskoke language starting around 2014. During this time, Jeremy co-founded the 501(c)(3) company, Red Stick Warriors Association. He serves as the Language Director for the Seminole Nation of Oklahoma Language Program. He is a member of the Kialegee Tribal Town, enrolled with the Muscogee Nation, and is also a Seminole Descendant.
Braxton Redeagle
Redeagle is the Director of the Osage Nation Language Department. He previously taught Osage I and Osage II for a world language credit in Skiatook and Hominy High Schools as a certified teacher. He grew up in Pawhuska and is a member of the Waxakolin committee for the Inlonshka dances. He is a graduate of the University of Oklahoma, where he was an active member of the Society of Native American Gentlemen and various other organizations that promote academics, health, culture and fellowship for students.
Dr. Candessa Tehee
As a full-blood Cherokee citizen, Dr. Tehee descends from the Tehee, Locust, McLemore, and Pumpkin families.
She earned her B.A. in Native American Studies and Communications in 2000, her M.Ed. in Adult and Higher Education in 2003, and her Ph.D. in Anthropology from the University of Oklahoma in 2014.
In her academic pursuits, she primarily focuses on Cherokee language revitalization, tribal sovereignty, traditional and contemporary southeastern Indian art, and Cherokee cultural studies. She is an Associate Professor and Department Chair of Cherokee and Indigenous Studies at Northeastern State University in Tahlequah, Oklahoma.
Traditional Dance Performance
Winter Wolfe
Wolfe is a graduate of Jim Thorpe Academy and currently works as a full-time teacher assistant at the Chickasaw Nation Child Development Center. Wolfe has received a certificate of Entry level childcare and a certificate for reducing the risk of SIDS/SUID in a childcare setting from the Outreach College of Continuing Education. She hopes to expand her knowledge of Chickasaw culture by serving her role as Princess.