A large delegation of campus and community leaders representing Seminole State College attended Higher Education Day at the Capitol in Oklahoma City, Tuesday, Feb. 14. The event, sponsored by the Oklahoma State Regents for Higher Education, is held annually to demonstrate the value and importance of higher education in the state.
To begin the day, SSC President's Leadership Class students visited the offices of several legislators, spoke with them and delivered Valentine's Day candy.
At lunch, SSC President Lana Reynolds introduced elected officials who represent communities in the College's service area. State senators Grant Green, Shane Jett, Darcy Jech; and representatives Kevin Wallace, Dell Kerbs, Danny Sterling and Danny Williams spoke to the SSC delegation about their support of higher education and their outlook on the legislative session.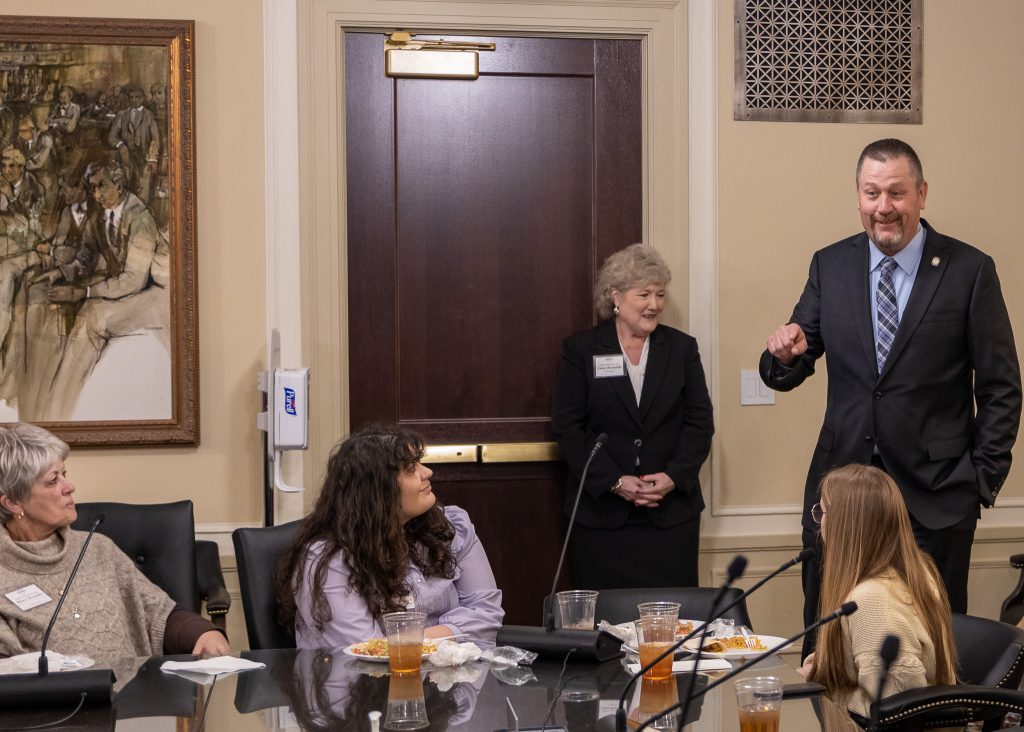 Community supporters in attendance included: Karel Brewster, Brewster and Associates; Karel Brewster, Brewster and Associates; Haley Coates, SSC Foundation Trustee and Owner, HC Investments; Harry Coates, Former Oklahoma State Senator and Owner, HC Investments; Marci Donaho, SSC Regent and Retired Executive Director of the Jasmine Moran Children's Museum; Randy Gilbert, Owner, Gilbert & Sons Trucking; Suzanne Gilbert, SSC Foundation Trustee and Owner Gilbert Insurance Agency; Jim Hardin, SSC Foundation Trustee; Dr. Donna Hardin, Retired Seminole State College Instructor; Kim Hyden, SSC Regent and Owner of Gary A. Crain, Inc.; Chris Moore, SSC Foundation Trustee and Senior Vice President BancFirst Seminole; and Jeremy Rich, SSC Foundation Trustee and J. Rich Companies.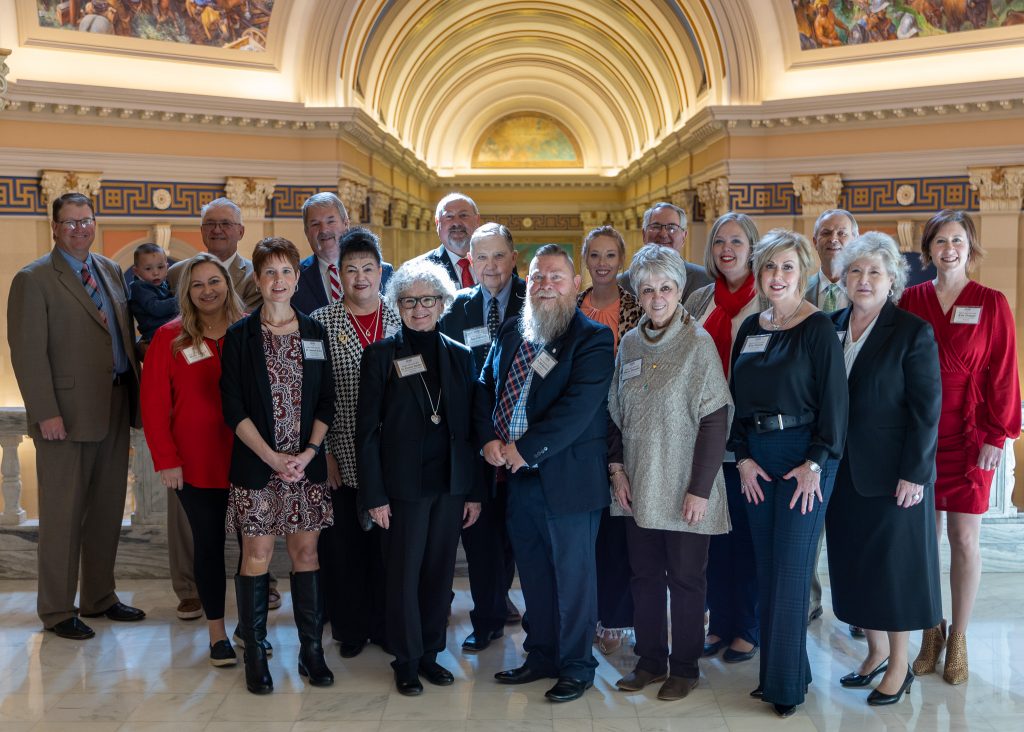 SSC Student Government President Georgia Ledford, Tecumseh, and Vice President Danielle Sullivan, Holdenville, attended, along with members of the President's Leadership Class.
PLC participants were: Frank Bourlon, Bethel; Holden Bradford, Oklahoma City; Erin Bronson, Shawnee; Emma Buchanan, Stroud; Ryan Carlisle, Foss; Diana Cazares, Castle; Thomas Choate, Seminole; Jaci Chowning, Stroud; Morgan Fite, Paden; Dalton Fowble, Chandler; Brett Griffith, Shawnee; Alexis Harper, Coweta; Jordan (Jesse) Jones, Tecumseh; Taylon Laxson, Oklahoma City; Jacob Leslie, Asher; Kamryn Lydens, Coweta; Johnny Mahalik, Carrolton, Texas; Kaden Morris, Holdenville; Blake Parrick, Stroud; Allyson Randall, Okemah; Jeremy Slate, Dallas, Texas; Elizabeth Smith, Agra; Evan Smith, President's Leadership Class, Muskogee; Sutton Titsworth, Bristow; Rachel Vieyra, Chandler; Hailey Wallace, Wellston; Brent White, Dale; Alivia Wiley, Oklahoma City; Kaden Wright, Bixby; and Audrey (Maggie) Zeier, Wewoka.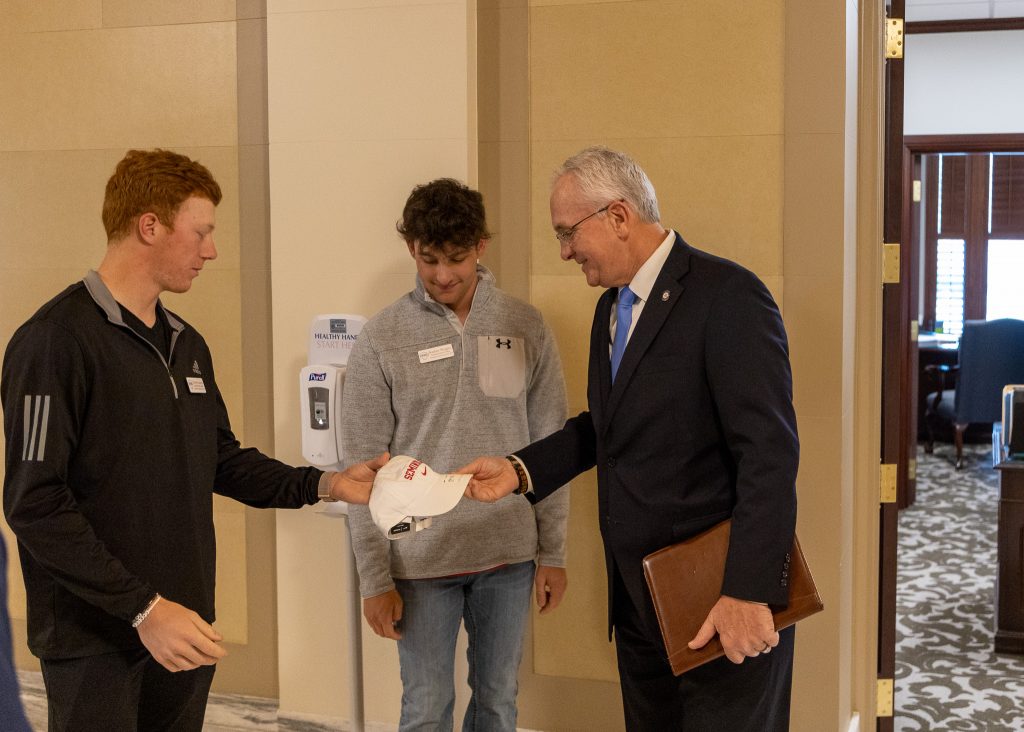 College representatives present were: Dr. Amanda Estey, Vice President for Academic Affairs; Dr. Bill Knowles, Vice President for Student Affairs; Danny Morgan, Rural Business and Resources Center Director; Brooks Nickell, Web and Multimedia Coordinator; Kim Pringle, Director of Community Relations; Lana Reynolds, President; Wendy Rich, Faculty Senate President; and Melanie Rinehart, Vice President for Fiscal Affairs.