Seminole State College has chosen 18 students for Class XIV of the SSC Presidential Leadership program. PLC is a two-year scholarship program created to help students develop leadership skills and provide personal and professional growth opportunities.
"The Presidential Leadership Class provides students with unique opportunities to foster their leadership skills while developing academic growth," SSC President Lana Reynolds said. "We look forward to working with these outstanding students. They will have some great opportunities throughout the year to meet with state leaders, learn about state government and philanthropy, study leadership styles and volunteer their time."
The scholarship program was established to provide educational classroom and extracurricular activities to enhance leadership skills of students. Responsibilities of PLC members include volunteering for community service programs and campus events.
School officials throughout the College's service area of Seminole, Lincoln, Pottawatomie, Hughes and Okfuskee counties are invited by President Reynolds to nominate high school seniors as candidates for the scholarship program each December. Other students are nominated by business owners and school officials. Participants are selected based on ACT scores, academic performance in high school and demonstrated leadership ability.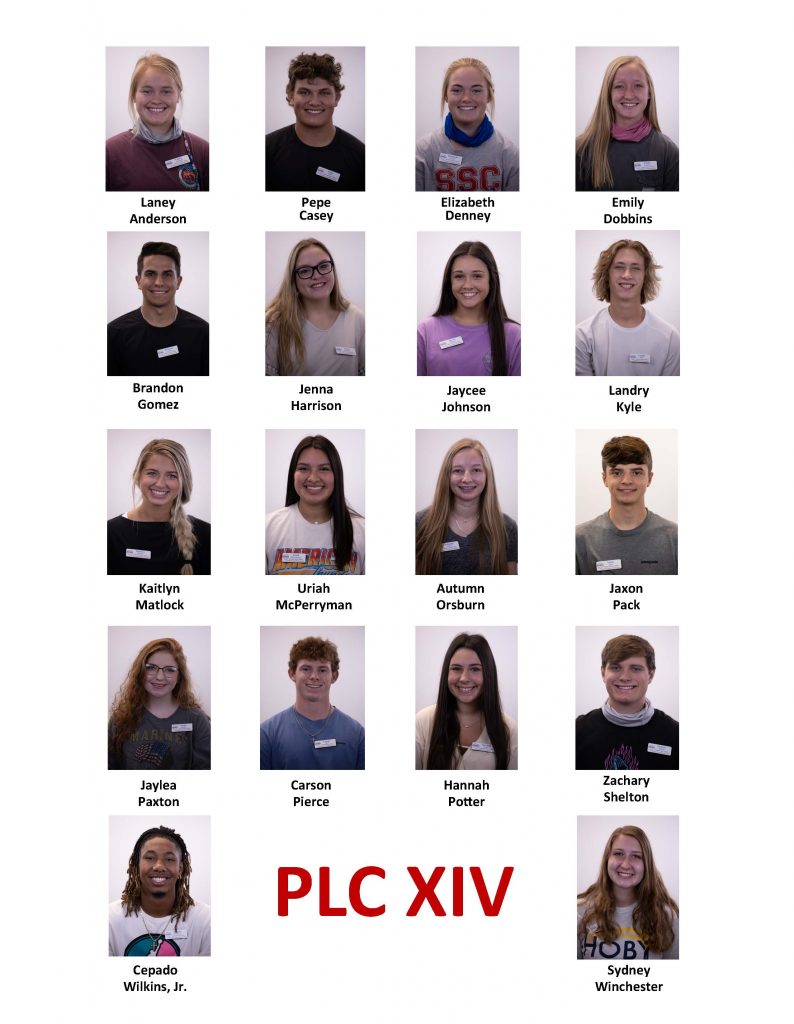 Freshman members of the President's Leadership Class XIII include: Laney Anderson of Ada, Pepe Casey of Owasso, Elizabeth Denney of Prague, Emily Dobbins of Broken Arrow, Brandon Gomez of Oklahoma City, Jenna Harrison of Shawnee, Jaycee Johnson of Paden, Landry Kyle of Oklahoma City, Kaitlyn Matlock of Lexington, Uriah McPerryman of Wetumka, Autumn Orsburn of Seminole, Jaxon Pack of Wetumka, Jaylea Paxton of Seminole, Carson Pierce of Edmond, Hannah Potter of Seminole, Zachary Shelton of Seminole, Cepado Wilkins, Jr. of Shawnee and Sydney Winchester of Prague.
Sophomore members of the President's Leadership Class XIII, returning for a second year in the program, include: Cale Ashcraft of Seminole, Connor Buchanan of Wewoka, Kandyce Davidson of Wewoka, Preston Davis of Oklahoma City, Kelsey Edminsten of Okemah, Candice Ervin of Holdenville, Callen Golloway of Blanchard, Jerome Hilton of Maud, Trevor Martin of Owasso, Tiffany Maxey of Catoosa, Sydney McClaskey of Maud, Brady McEntire of Daingerfield, Texas, Shelby Moutaw of Strother, Rylee Treloar of Depew, Creed Watkins of Duncan and Channing Wortham of Shawnee.
The freshmen attended an orientation session at the College prior to the start of classes. Each semester students will spend a minimum of nine hours doing community service and will attend several events, including team building activities at St. Crispin's Lodge, a voter engagement panel discussion with elected officials and a financial literacy presentation.
For more information about the PLC, contact SSC Director of Community Relations Kristin Dunn, who serves as coordinator of the program, at 405-382-9218 or at k.dunn@sscok.edu.