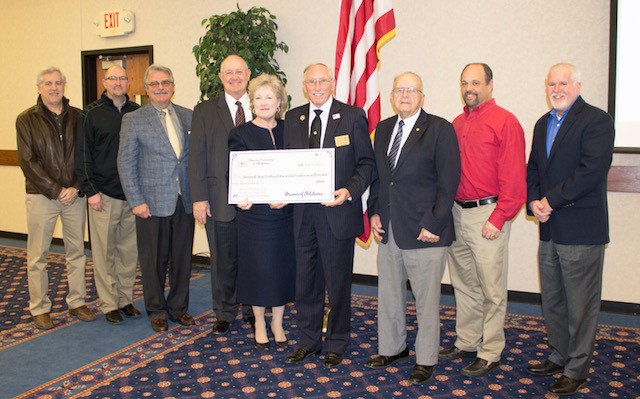 SSC Foundation Receives $50,000 Masonic Endowment
The Seminole State College Educational Foundation received a $50,000 Presidential Leadership and Cultural Programming endowment from the Masonic Charity Foundation of Oklahoma during a special presentation on Monday.
This donation will help provide leadership opportunities for students at the College – specifically members of the President's Leadership Class. The PLC program was established at Seminole State College over a decade ago. The two-year scholarship program provides approximately 40 to 45 students with unique educational, cultural, volunteer and leadership opportunities. Throughout the year, they are able to meet with state leaders, learn about state government and philanthropy, study leadership styles and participate in community volunteer work.
This endowment will also fund cultural activities on campus that will be available not only to students, but to the entire campus and surrounding communities.
SSC President Lana Reynolds expressed her gratitude for such a generous gift to SSC. "The financial support that the Masonic Charity Foundation of Oklahoma is making to the PLC program, as well as to cultural programming for our entire campus community, is tremendous. Through their support, students in the PLC program will be given more opportunities to develop their leadership skills and further enhance their personal and professional growth. This gift will also help us expose students, employees and community members to events and activities celebrating arts and humanities. Gifts such as these are always appreciated – especially in tough budget times."
Representatives of the Oklahoma Masonic Charity Foundation present at the event were Grand Master C.W. Corky Grigsby, Executive Director John Logan and President Ike Isaacs. This grant is part of efforts by the Masonic Foundation to place endowed funds in publically funded colleges throughout Oklahoma. For more information, visit http://www.mcfok.org.