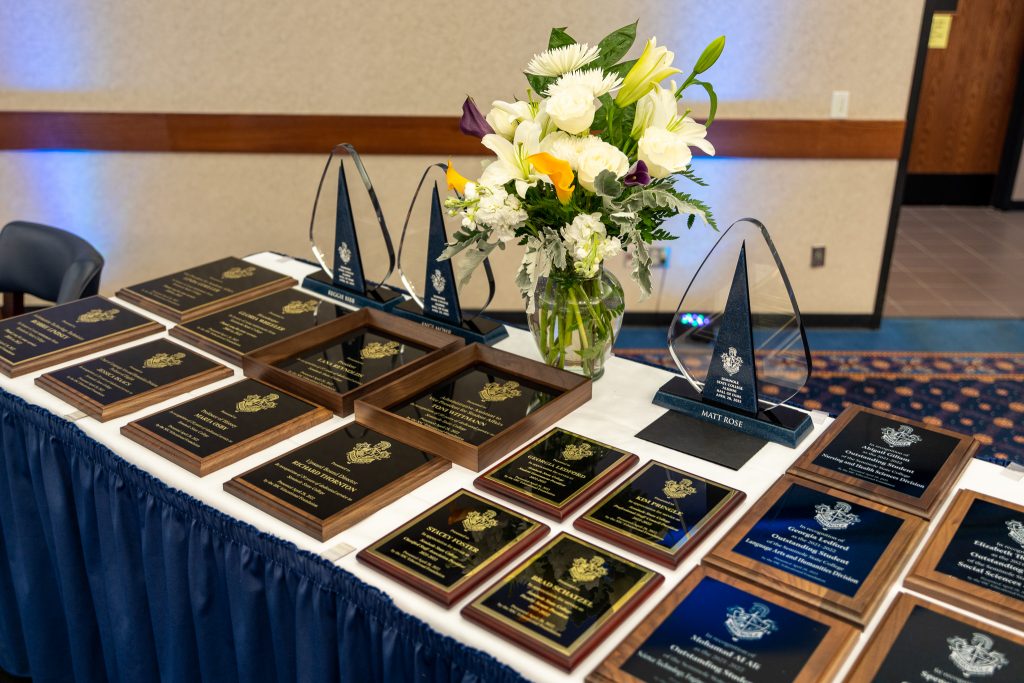 The Seminole State College Educational Foundation hosted its 27th Annual Spring Banquet on Thursday, April 28 in the Enoch Kelly Haney Center on campus. Nearly 350 people were in attendance. Accomplishments by alumni, employees and students were recognized at the event.
Former students Reggie Bibb, Angi Mohr and Matt Rose were inducted into the SSC Alumni Hall of Fame. Recipients are selected for their achievements while attending the College, as well as the contributions they have made in their professional careers. Bibb is currently the Director of Diversity and Inclusion for the Wylie Independent School District in Texas. Mohr is the President of SSM Health St. Anthony Hospital – Shawnee. Rose is currently a sergeant and a Project Manager for the Tulsa Police Department but will soon take on the role of Regional Disaster Officer for the Kansas and Oklahoma Region of the American Red Cross.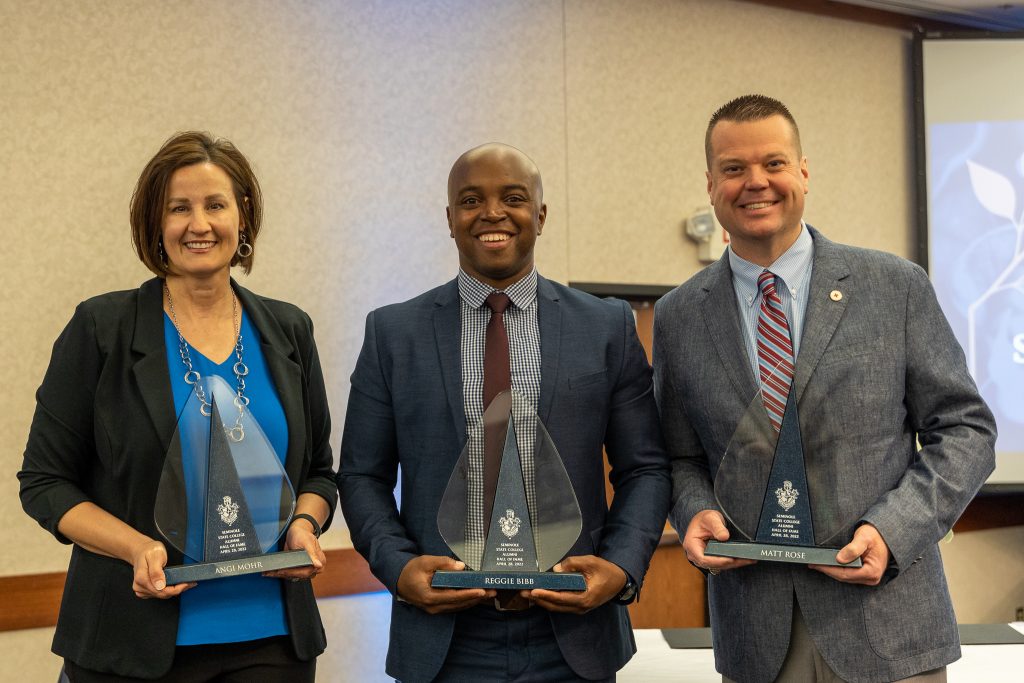 The Hall of Fame inductees were introduced by Dr. Tom Mills, Vice President for Academic Affairs at Tarrant County Trinity River Campus in Fort Worth, Texas; Kathy Laster, President and CEO of the Avedis Foundation; and Former U.S. Congressman Dan Boren – State President of First United Bank.
Campus organizational leaders were also recognized at the banquet, including Faculty Senate President Brad Schatzel, Professional Staff President Kim Pringle, Classified Staff President Stacey Foster and Student Government Association President Georgia Ledford.
Each division on campus has selected an outstanding student to be recognized at the event: Spencer Sturgill of Shawnee, Business and Education; Elizabeth Thomlinson of Shawnee, Social Sciences; Mohamad Al Ali of Amman, Jordan, STEM; Georgia Ledford of Tecumseh, Liberal Arts and Humanities; and Abigail Gilliam of Macomb, Health Sciences.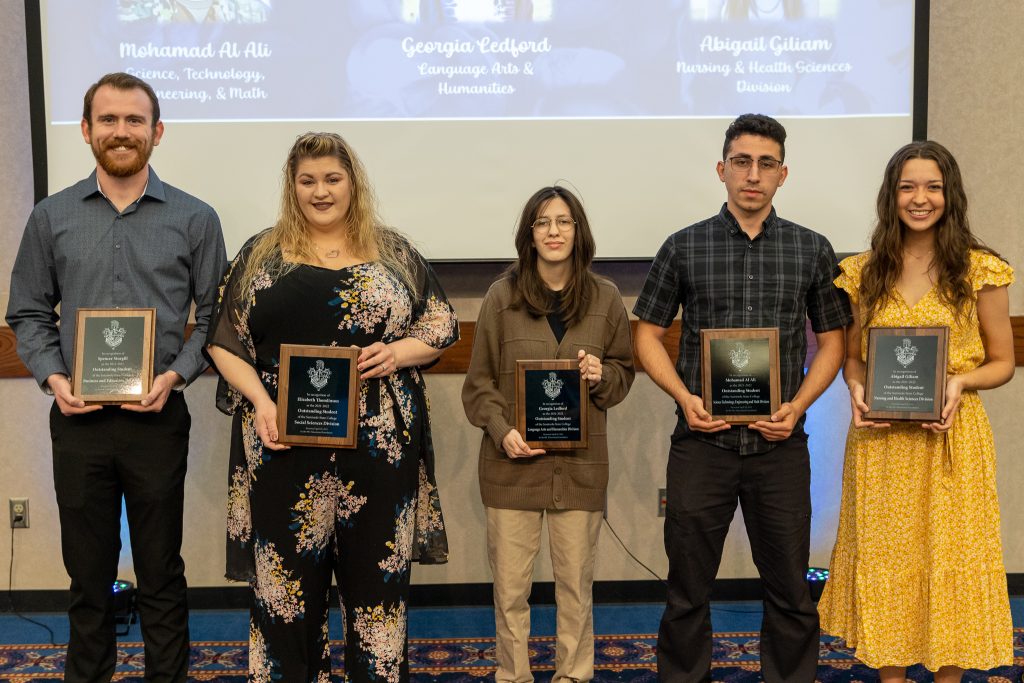 Five employees were recognized for reaching milestone years of employment with the College. Serving the institution for 20 years are Professor of English Jessica Isaacs, Professor of History Marta Osby and Upward Bound Director Richard Thorton. Administrative Assistant Toni Wittmann has worked at SSC for 30 years and President Lana Reynolds, 35 years.
Three employees were recognized for their upcoming retirement: Vice President for Academic Affairs Dr. Linda Goeller, Information Technology Technician Robbie Lindsey and Custodial Staff member Gloria Wheeler.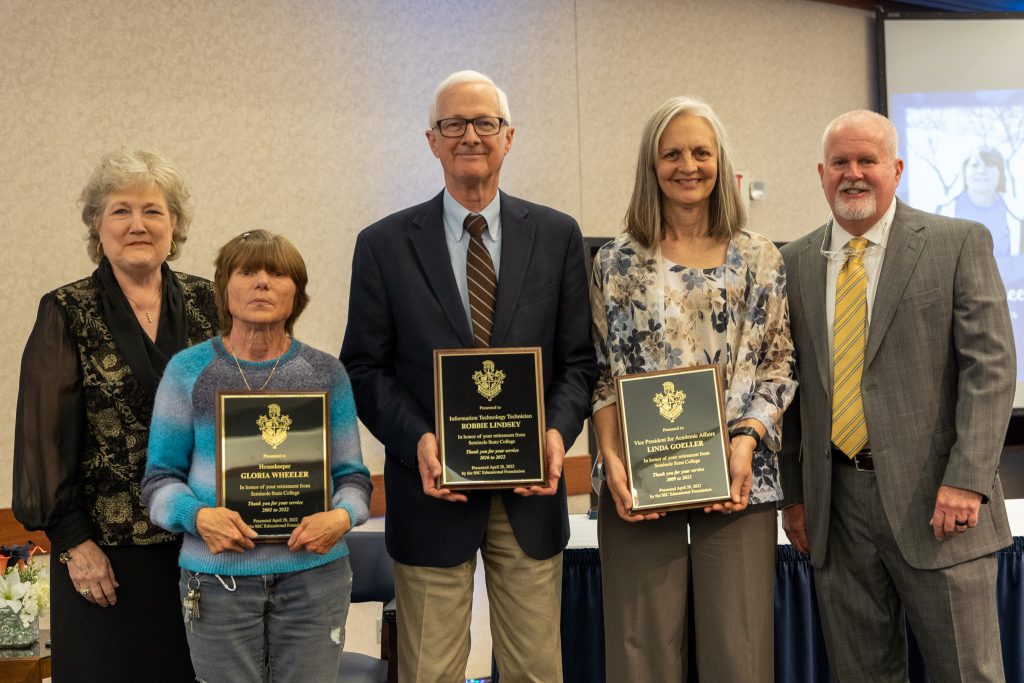 The College's Educational Foundation was established in 1972 to "supply aid for charitable, benevolent educational, scientific and literary purposes. This year's Spring Banquet raised nearly $40,000. Funds raised will go toward student scholarships and campus capital projects.
If you would like to support the SSC Educational Foundation
Scan the code below or Checks can be sent to:
SSC Educational Foundation, P.O. Box 351 Seminole, OK 74818