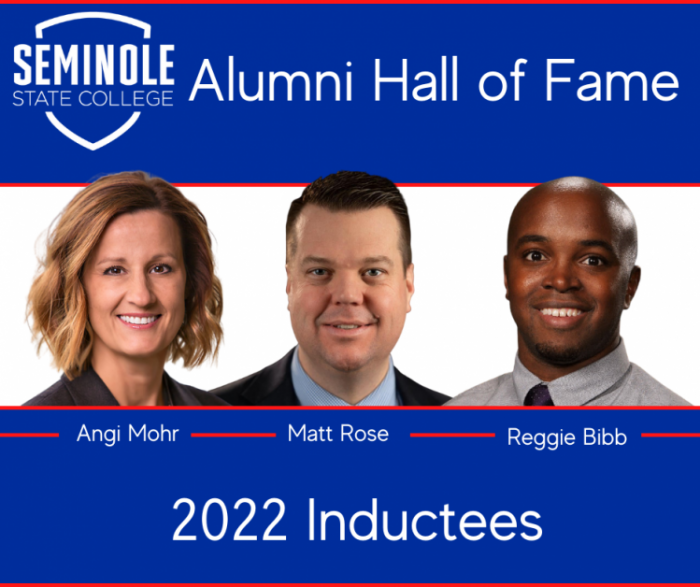 The Seminole State College Educational Foundation will host its 27th Annual Spring Banquet on Thursday, April 28, at 6:30 p.m. in the Enoch Kelly Haney Center on campus. The event recognizes accomplishments by alumni, employees and students.
Former students Reggie Bibb, Angi Mohr and Matt Rose will be inducted into the SSC Alumni Hall of Fame. Recipients are selected for their achievements while attending the College, as well as the contributions they have made in their professional careers. Nominations for inductees are accepted each year from faculty, staff, SSC Educational Foundation trustees and the public.
Bibb is currently the Director of Diversity and Inclusion for the Wylie Independent School District in Texas. He focuses on fostering a climate and culture in the district where everyone feels valued and safe. While attending SSC, he played for the Trojan basketball team. He was named the Region II Conference Tournament MVP and helped lead the team to an appearance at the National Tournament.
He went on to attend Harding University in Searcy, Arkansas, where he earned his bachelor's degree in Business Management in 2007. Later that year, he returned to SSC to serve as the Assistant Basketball Coach. From 2010 to 2014, he was a math teacher and coach for Wylie ISD. He completed his master's degree in Educational Leadership at Texas A&M – Commerce, Texas. He is active in his community, coaching multiple youth sports teams, organizes community events, and is a member of the Dallas-Ft. Worth Equity Community and the Texas Association of Black School Educators. He resides in Lavon, Texas.
Mohr has been in the health care profession since 1992 and became the President of SSM Health St. Anthony Hospital – Shawnee in February 2020. She graduated from Tecumseh HS in 1988, received her associate's degree in Nursing from SSC, a bachelor's degree in Nursing from the University of Phoenix and a master's degree in Management from St. Gregory's University.
She started her career as a Registered Nurse in the Emergency Department (ED). She quickly became the ED Director, where she spent the first 17 years of her career. In 2009, she promoted to the Assistant VP of Nursing and in 2011 was promoted to the Chief Nursing Officer (CNO). In 2014 she became the Chief Operating Officer (COO) and held the dual role of COO & CNO until becoming the hospital President.
Angi is active in the community, serving as a member of the Board of Directors for the Avedis Foundation, Shawnee Forward, and United Way of Pottawatomie County. She was a recipient of the 2019 Forward 15, Shawnee Forward Business Achievement Award and was recognized as one of the Top 10 Most Influential Leaders in Pottawatomie County in 2020. She is an active member on the Blue Zones Steering Committee and serves on other various community related teams as well. She and her husband, Bricen, reside in Shawnee.
Rose is a Sergeant and Project Manager for the Tulsa Police Department. In his role, he assists the Headquarters Division in large projects that support the goals of the department. He is currently assigned to the electronic time keeping project to replace the paper time keeping system currently in place. He completed his associate's degree at SSC in 2002. While at SSC, he was Student Government Association President for two years and selected as a George Nigh Leadership Scholar. He went on to attend Oklahoma Baptist University and the University of Oklahoma. He holds a bachelor's degree in Journalism/Public Relations from OU.
Prior to his current position, he served as a police officer and a detective for Tulsa PD. He was also the Director of the East Central Workforce Investment Board for two years, and the Owner and President of MJCBR Consulting LLC – ONEOK, Inc. for two and half years.
He received a Department Commendation from Tulsa PD in 2008, a Chief's Unit Award in 2019 and a proclamation from the Tulsa City Council in 2019 for his work in flood management. He currently serves on the American Red Cross Board for the Northeast OK and Kansas Region. He is a past President of Route 66 Main Street and past Chairman of the PatriotFest. He resides in Bixby.
In addition to the three Alumni Hall of Fame honorees, campus organizational leaders, outstanding students, faculty and staff reaching milestone years of employment and retirees will be recognized at the event. These honorees will be announced at a later date.
For information on sponsorships or to purchase individual tickets to the event for $35, contact the SSC President's Office at 405-382-9200.