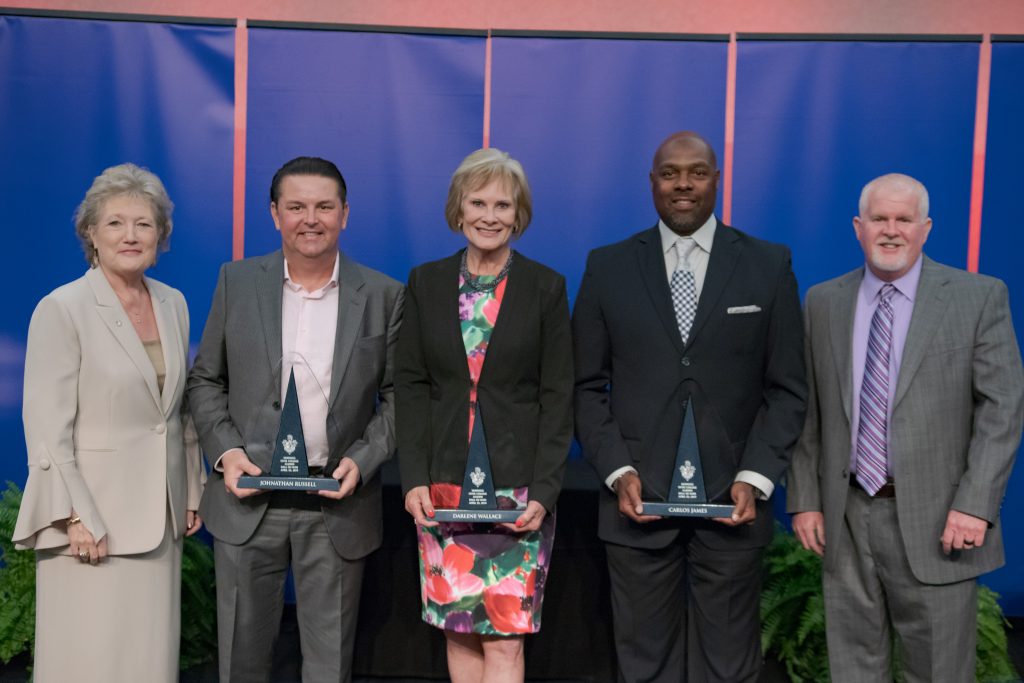 More than 350 friends and supporters of Seminole State College attended the SSC Educational Foundation's annual recognition banquet April 25, in the Enoch Kelly Haney Center. The event included recognition of college alumni, employees and students.
SSC alumni Carlos James, Johnathan Russell and Darlene Wallace were inducted into the Seminole State College Alumni Hall of Fame. The three honorees joined 69 other former students in the Hall of Fame.  Recipients of the honor are selected for their achievements while attending the college and contributions they have made in their professional careers which bring pride to the institution. Nominations are accepted each year from faculty, staff, members of the SSC Educational Foundation and the public for induction.
Three SSC employees were recognized at the banquet for their upcoming retirements, including: Deedra Eldredge, NASNTI Coaching Specialist; Cindy Guinn, Administrative Assistant to the President's Office; and Mary Higgins, Accounts Payable Clerk.
One employee was recognized for reaching an employment milestone. Damaris Haney, Talent Search Advisor, was also honored for serving the College for 20 years.
One student from each of the College's six academic divisions was selected by faculty to be recognized as the "SSC 2019 Outstanding Students."  Those honored at this year's reception included:  Business and Education – Hanna Pitman of Quinton; Language Arts and Humanities – Kristy Lively of Bethel Acres; Science, Technology, Engineering and Math – Kaitlyn Carroll of Broken Arrow; Nursing and Health Sciences – Ashley Bristol of Del City; and Social Sciences – Kaitlyn Trunk of Seminole.
Campus organizational leaders were also honored at the event.  Those honored were: Angela Church, Faculty Senate President; Edith Cathey, Professional Staff Council President; Toni Wittmann, Classified Staff Association President; and Tijah Johnson, member of the Student Government Association.
Proceeds of the banquet will go to the SSC Educational Foundation. The SSC Educational Foundation, Inc., was created in 1972 "to supply aid for charitable, benevolent, educational, scientific and literary purposes," according to the foundation's articles of incorporation.
Lance Wortham serves as Chair of the Foundation Board of Trustees. Vice Chairs are Jeramy Rich and Doug Humphreys.  Other members of the Board are: Chairman Rocky Barrett, Dan Boren, Dr. Vickie Carter, Brooke Case, Steve Degraffenreid, Jay Estes, Rick Geist, Suzanne Gilbert, Keith Grissom, Jim Hardin, John Hargrave, Tim Mathews, Gordon Melson, Chris Moore, Carl Packwood, Kenny Pryor, Chief Kay Rhoads, Lance Ruffel, Mark Schell, Jack Sherry, Roy Sisco, Sue Snodgrass, Bob Swearingen, Andy Tucker, Reggie Whitten and David Wilson.