Parents
How To Get There From Here!
GEAR UP is designed to encourage parental involvement in the student's academic growth and provide information to help families plan for post-secondary education.
Financial planning is part of the process for the student and the parent. Through various student assistance programs, a college degree is within the reach of most all United States students. However, the preparation for entry into higher education can produce its challenges.
Members of the GEAR UP staff are available for personal advice and counsel. However, these links are also helpful in providing parents with information to prepare for the quickly approaching commencement day.

Oklahoma's Promise
Oklahoma's Promise allows students whose families earn $50,000 or less annually, and who meet academic and conduct requirements to earn a college tuition scholarship.
Created in 1992 by the Legislature to help more Oklahoma families send their children to college, Oklahoma's Promise was originally designated as the Oklahoma Higher Learning Access Program. The program is administered by the Oklahoma State Regents for Higher Education.
This site provides detailed information about application procedures and requirements to qualify for the tuition assistance supplied by Oklahoma's Promise. Online application can be accessed through this site.
As an alternative for tuition assistance to attend Oklahoma public colleges and universities, Oklahoma's Promise assistance at designated amounts can be used for post-secondary coursework at many private higher education institutions in the state.
To qualify, a student must make initial application prior to the application deadline in the year the student completes the 10th grade.
Oklahoma Money Matters
The Oklahoma Money Matters website is a project initiative of the Oklahoma College Assistance Program, a division of the Oklahoma State Regents of Higher Education. The site provides information and tools toward improving financial literacy and assisting parents and students with preparation for post-secondary education costs.
The site includes budget calculators and other tools to assist users in better managing funds in order to better prioritize personal expenditures and prepare for future challenges.
The site can be accessed at www.oklahomamoneymatters.org.

OK College Start
SSC GEAR UP students should have already created an account on this site. The site is a partnership project of the Oklahoma State Regents for Higher Education, Oklahoma colleges and University and various college access organizations.
With their accounts, students can begin preparation for education after high school and track their progress over time beginning as early as middle school. The site also provides updated information on degree plans, admission requirements, activities and costs at Oklahoma public and private higher education institutions allowing students and parents to review the options available in Oklahoma for post-secondary education.
The OK College Start site is www.okcollegestart.org.
Similar to Oklahoma College Start, this site provides information about colleges and universities throughout the United States. Maintained by the U.S. Department of Education, this site provides has information about colleges and universities throughout the United States through its "College Navigator."
The site also includes a "Net Price Calculator Center" which can be used for estimating college costs after scholarships and grants. And, the site also includes the opening link to the "College Scorecard" launched in 2015. To help students make informed college choices, the scorecard allows them to find information specifically addressing a college's affordability and value.
Access the site at www.collegecost.ed.gov.
Federal Student Aid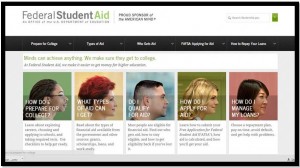 Federal Student Aid can be the largest contributor to financial assistance for your student to attend college. This office of the U.S. Department of Education maintains this site to provide information to students and parents about the resources available and to help students and parents navigate the financial aid process.
In addition to links to applying for aid, the site provides information about loan repayment and resources for planning college attendance.
When it comes time for the Free Application for Federal Student Aid, the parent of each student is very involved in the process. If you have questions about Pell Grants, Subsidized Loans or other forms of aid for your student, the place to find answers is www.studentaid.ed.gov.