Seventy-two days – that is how long Seminole State College nursing student Devin Fluitt and her fiancé Westy Carpenter watched their twin daughters fight for their lives in the Neonatal Intensive Care Unit. Her baby girls, Denton and Blakely, were born prematurely at 27 weeks in the Norman Regional HealthPlex Hospital in September of 2016.
During the twins' journey to good health, Fluitt found herself becoming fixated on numbers – oxygen levels and heart rates. Each time she entered the NICU to see her daughters, she had to scrub her hands for three minutes.
"I'd just stand there, staring at the clock, waiting for it to end, waiting to see them. You don't realize how long three minutes can seem," Fluitt said.
Due to their premature birth, her girls struggled with apnea and bradycardia, a slower than normal heart rate, which can become a major concern if the heart does not pump enough oxygen-rich blood to the body. The nurses would talk her through the testing of the girls' heartrates and the monitoring of their oxygen levels. They also provided advice on caring for premature babies and parenting in general, which Fluitt and her fiancé valued as young parents.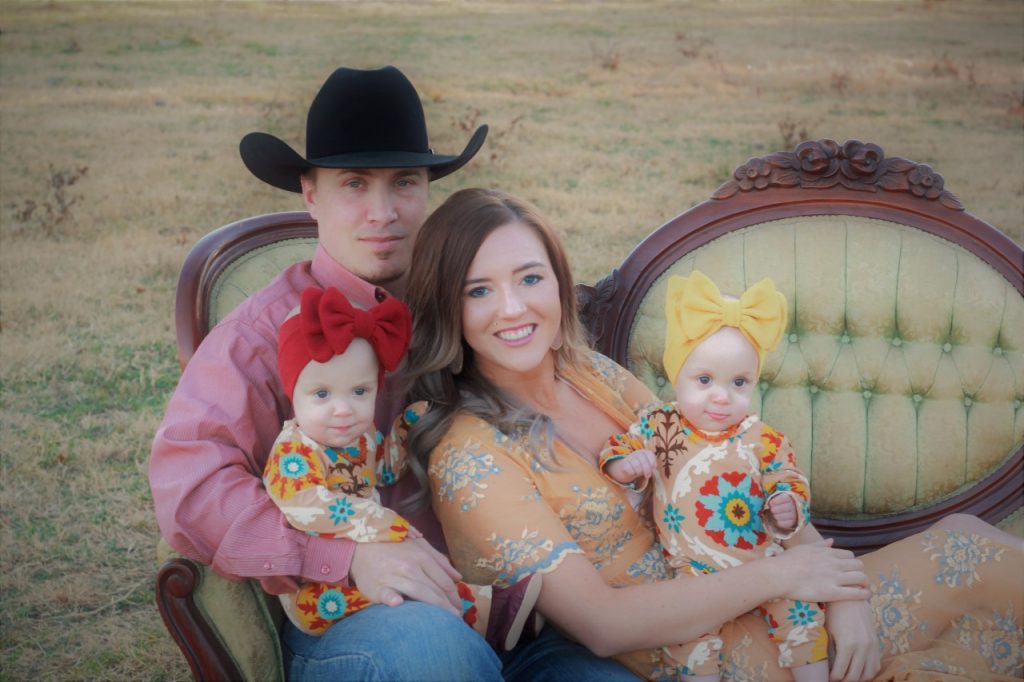 "I remember saying I felt sorry for people who just have a normal baby. They just get a slap on the back and a good luck," Fluitt said. "I bonded so well with those nurses."
Fluitt also found reassurance and community with the other parents who had children in the NICU.
"It's comforting to know you aren't alone in this. That others have experienced it and are experiencing it. We provide each other emotional support," Fluitt said.
When her twins were finally healthy enough to be taken home, they were both on oxygen. In the first year of their lives, the girls were in and out of hospitals for surgeries, checkups and Failure to Thrive, a medical diagnosis where a child does not gain weight at the expected rate.
"I saw so many different aspects of nursing during that time," Fluitt said. "And by the time they turned two, they were completely healthy, thriving. Time slowed down enough for me to pursue what I wanted to do."
Through the process, Fluitt discovered a passion for helping others experiencing what her family had endured. She enrolled in the nursing program at SSC in 2018.
"If I can be a nurse in the NICU with my own testimony, I feel like that would be a jackpot for the parents," Fluitt said.
Becoming a nurse was not something she had planned on prior to the birth of her girls.
"Before I had my children, I was never actually interested in being a nurse. I felt like I can't do that. I don't have it in me," Fluitt said.
While going to college full time while raising twin toddlers has been a challenge, she appreciates how well Denton and Blakely get a long so well.
"Since they're so content to be playing together, I'm able to find the time I need to study," Fluitt said.
Her girls are now four years old and attend an early developmental school.
"They just love school. I'm not sure if they'll love it when they go to public schools and they get separated. They're very close. Scary close. Twins are terrifying at times, watching their minds work. The telepathy is so real," Fluitt joked.
Fluitt and her fiancé are set to get married in November and she will complete the SSC nursing program in December of 2021.
Her primary motivation for finishing her degree and beginning her career is her children. She has tattoo of the number 72 encircled in the color purple, the symbolic color of prematurity awareness.
"When I get stressed or feel overwhelmed with school, I remind myself that they fought for their lives for 72 days. I can manage a few years of school," Fluitt said.