The Avedis Foundation has awarded a $250,000 grant to the Seminole State College Educational Foundation's sports complex project for the addition of an adaptive field for persons with special needs. The adaptive field, designed specifically for special kids and adults, will be the first of its kind in the State of Oklahoma.
The Avedis Foundation, established in 2012 in Shawnee, supports a vision to measurably improve the health, wellness and quality of life for the people of Pottawatomie County and its surrounding communities. "Avedis" means "bearer of glad tidings or good news."
The organization sponsors a leadership development institute and is a partner in several collaborative initiatives including the healthy living Blue Zones Project, Community Renewal of Pottawatomie County, and the Community Market.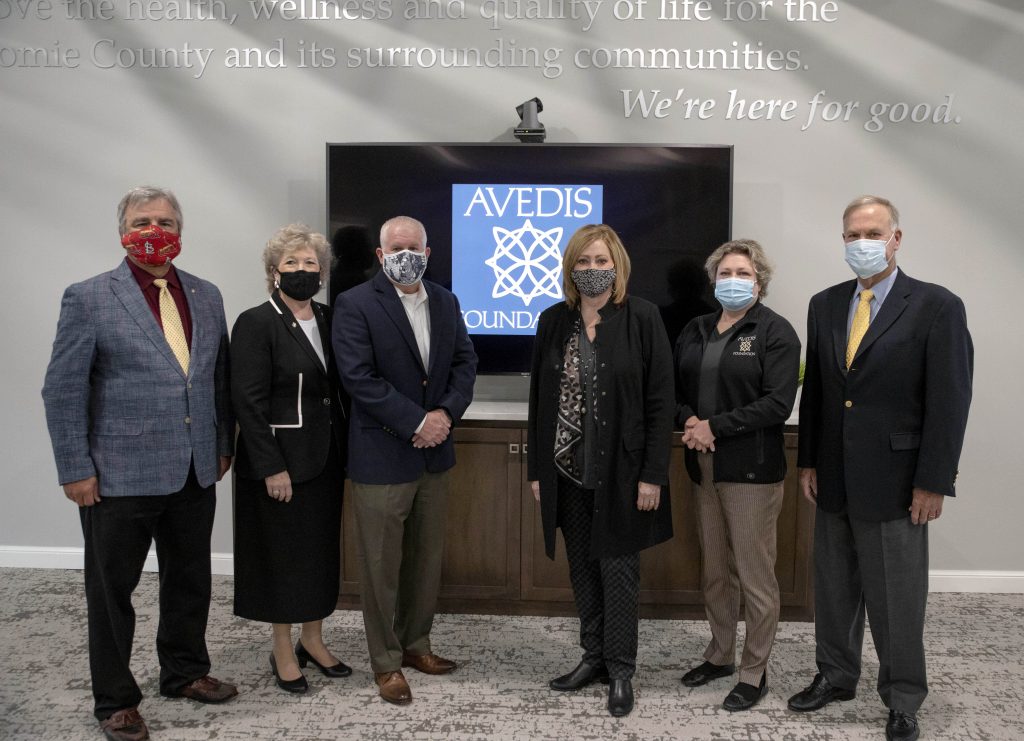 Avedis Executive Director Kathy Laster said the Foundation staff and Board of Directors consistently assess health and wellness issues in the area and support new and innovative ways to improve outcomes. She said, "In addition, we have a commitment to improving the quality of the life in our area and to helping nonprofits address community health outcomes.
"We are excited about helping this under-served population and for what the sports complex will do for this entire area."
Data from the Oklahoma State Department of Education shows that 5,186 students have been identified as having special needs in the five-county service area of SSC.  That number does not include other groups such as disabled veterans and other adults with special needs. SSC President Lana Reynolds expressed her thanks and excitement about the award. "Thinking of the opportunities this will create for people with special needs brings tears to my eyes. This award will change lives. We cannot thank Kathy and the Avedis Board enough for helping us make this 'field of dreams' a reality," Reynolds said.
The Brian Crawford Memorial Sports Complex is under construction just west of SSC on Highway 9.  The seven-field complex will serve as home to the Seminole State College Trojan Baseball and Soccer teams and will provide sports fields for hosting tournaments for teams of all ages and abilities throughout the region and state.
The SSC Educational Foundation has partnered with the Cal Ripken, Sr., Foundation to design and raise funds for the complex. Former Baltimore Oriole and 2007 National Baseball Hall of Fame inductee Cal Ripken, Jr. expressed his excitement about this award and project. "We have been doing terrific work in Oklahoma for a few years now and it all comes down to great partners. This Youth Development Park in Seminole, Oklahoma will be transformational.  Through our partnership with the SSC Educational Foundation and the Brian Crawford Memorial Foundation, and thanks to the generous support of the Avedis Foundation, kids with special needs will have an amazing place to play and learn," said Cal Ripken, Jr. 
The SSC Foundation has contracted with Hellas Construction to build this state-of-the-art adaptive field.  To view a video of a ribbon cutting for an Adaptive Field recently completed by Hellas Construction in Texas, visit:  https://youtu.be/nSH3_OxJovc.
SSC President Emeritus Jim Utterback has been coordinating fundraising efforts for the BCM Sports Complex.  He expressed appreciation to Laster and Avedis Project Director Tracy Meeuwsen, as well as the Avedis Foundation Board, for their support and guidance during the grant process. "Through a series of meetings, Kathy and the Board helped us shape and sharpen our vision for this exciting and important addition to our complex. In addition, Tracy Meeuwsen provided valuable insight about the grant process. We deeply appreciate the time and effort they expended over the past several months to help us make this project come to fruition," he said.
SSC Educational Foundation Chairman Lance Wortham said the Foundation and College are excited about the expansion of the sports complex to include the Adaptive Field. "This heartwarming addition brings the possibilities of what the complex can do to a new level. We believe this project will be a source of pride for our entire area as we can now provide opportunities for persons of all ages and abilities. The economic impact on this entire area will be incredible," Wortham said.
For more information about the Brian Crawford Memorial Sports Complex fund raising efforts, contact the SSC Foundation office at 405-382-9506 or email Dr. Utterback at j.utterback@sscok.edu.