Twenty-nine Seminole State College students were inducted into the Alpha Theta Nu Chapter of Phi Theta Kappa International Honor Society for Two-Year Colleges on Oct. 20.
The induction ceremony was conducted virtually, utilizing Zoom video conference software.
Students are selected based on their scholarship, leadership and commitment to community. The chapter provides programs, organizes activities and encourages participation in community service projects.
Requirements for membership in the honor society include: enrollment at an accredited two-year college with a Phi Theta Kappa chapter and an overall GPA of 3.5 with a minimum of 12 credit hours completed.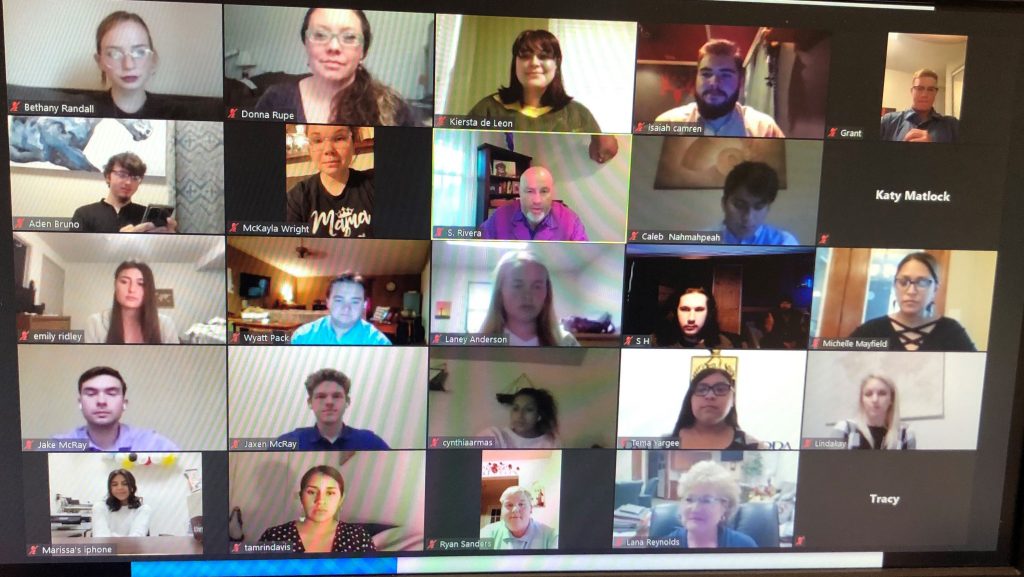 SSC President Lana Reynolds served as the event's guest speaker. She became the first female president of Seminole State College in 2017 and has held several administrative roles at the College in the past 30 years.
She is currently the Chair of Leadership Oklahoma and a past President of the Seminole Chamber of Commerce and the Seminole Rotary Club. She was selected as Seminole's "Citizen of the Year" in 2008 and was named by the Journal Record as one of "50 Women Making a Difference" in the state of Oklahoma in 2000, 2012 and 2013 – bringing her into the "Circle of
Excellence" for her three-time selection. In November 2017, she received a Distinguished Alumni Award from Oklahoma Christian University.
Reynolds has served as Chair of the Oklahoma State Regents Communicators Council and is a past President of the Oklahoma College Public Relations Association.
Assistant Professor of Business Jeff Cheng and Assistant Professor of Social Sciences Sam Rivera, who serve as the chapter's current advisers, were also present at the induction.
SSC students inducted at the ceremony (arranged by hometown) were:
Ada: Laney Anderson
Del City: Ryan Sanders
Earlsboro: Jessica Waddell
Edmond: Evy Aud
Holdenville: Steven Horvatt
Lexington: Kaitlyn Matlock
Macomb: Aden Bruno
Oklahoma City: Grant Murphey
Owasso: Cynthia Armas
Prague: Isaiah Camren
Seminole: Jake McRay, Jaxen McRay, Donna Rupe, Tatum Shelton and Marissa Vega
Shawnee: Tamrin Davis, Amy Hailey, Brittany Harwell, Michelle Mayfield, Caleb Nahmahpeah and Harley Gregory
Stroud: Samantha Beavers
Tecumseh: Lindakay Berry, Bethany Randall, Emily Ridley and McKayla Wright
Wetumka: Wyatt Pack
Wewoka: Jami Barkhimer and Emma Norman