Employment Opportunities
---
Seminole State College exists as an Equal Employment Opportunity (EEO) employer, committed to multicultural diversity. SSC participates in E-verify.
---
Salary Pay Range Chart based on Position Classification
Pay ranges are inclusive of both starting pay and potential progression over time. Progression is considered to be pay beyond the starting rate, up the maximum of the assigned pay range chart. The salary range is established by considering comparable positions in the labor market and SSC's available financial resources.
Specialization/Certification* = Entry Salary + up to $2,000 comparable to labor market standards and SSC's available financial resources.
**These are general hiring salary range guidelines only. **
Example Chart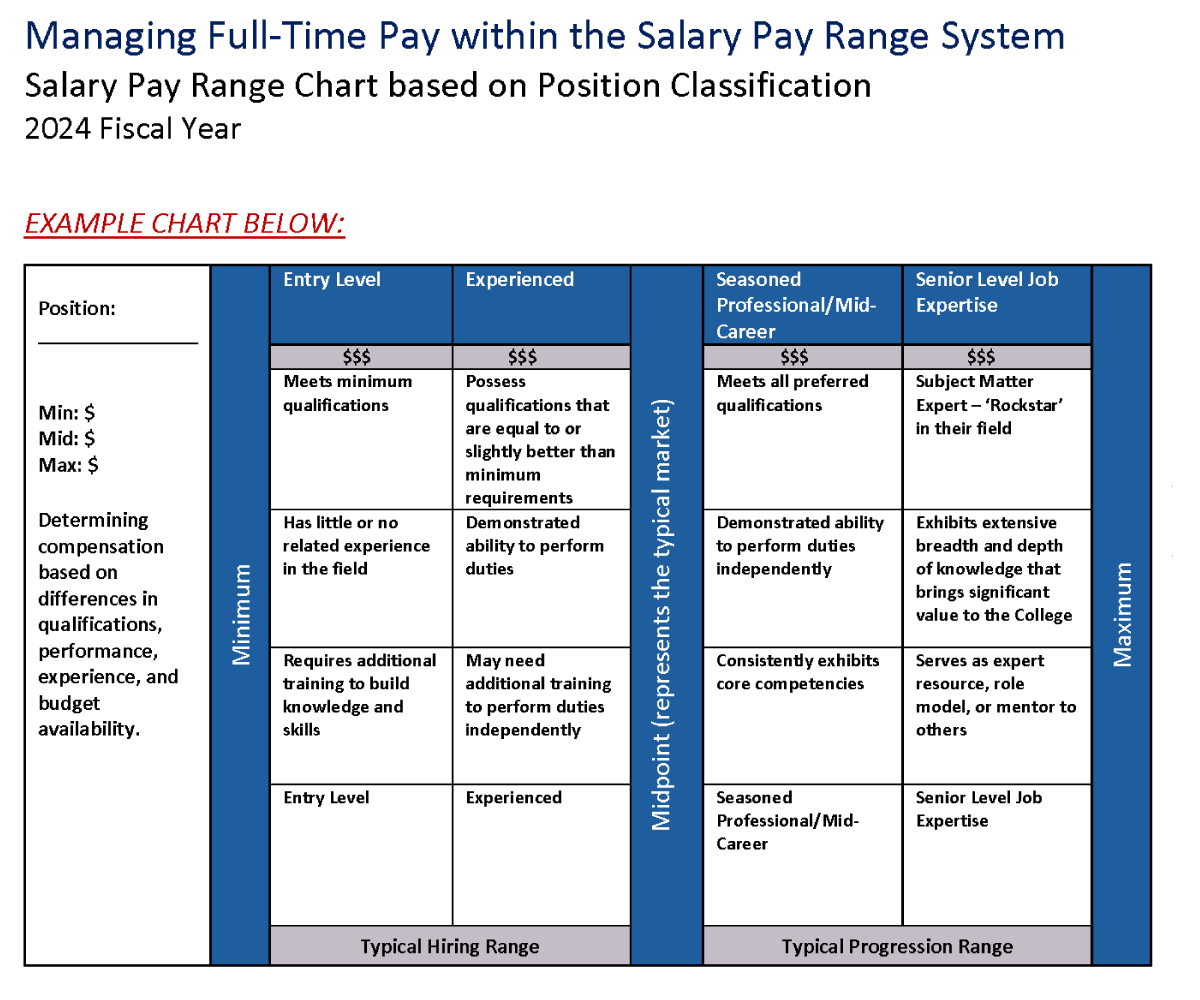 Compensation Structure
The example pay range chart above has been divided into columns. These descriptions are used to evaluate both internal (employee's knowledge, skills, abilities, certification) and external factors (budget availability, salary compensation) that affect the salary rate offered to the employee in the position.
Faculty

Administration

Professional Staff

Classified Staff (35 Hours)

Classified Staff (40 Hours)

---
Seminole State College does not discriminate on the basis of race, color, national origin, sex, disability, or age in its programs and activities. In order to assure that equal opportunity is afforded to all students, employees, and applicants, Seminole State College has implemented an Equal Employment Opportunity / Affirmative Action Program. The Director for Human Resources may be reached at 405-382-9204 to handle inquiries regarding the nondiscrimination policy and to assist with the application process.
Seminole State College is a tobacco free campus the use of tobacco products (including, but not limited to, cigarettes, electronic cigarettes, vaping devices, pipes, smokeless tobacco, and other tobacco products) is prohibited throughout all indoor and outdoor areas of property owned or under the control of Seminole State College.
Seminole State College Safety and Fire Report is provided for your information and in compliance with the Jeanne Cleary Disclosure of Campus Security Policy and Campus Crime Statistics Act. The report can be found here.
Leslie Sewell, Title IX Coordinator 2701 Boren Blvd. Seminole, OK 74868 405-382-9541 l.sewell@sscok.edu
---
Contact Human Resources:
Phone: 405-382-9204
Fax: 405-382-9557
Email: hr@sscok.edu
Office Hours
Mon-Friday 8:00am-5:00pm
(Closed on Fridays in summer)
Location
Dan & Andrea Boren Center
Suite 208
2701 Boren Blvd.
P. O. Box 351
Seminole, OK 74818